Make Groovy Gifts with These
Tie Dye Patterns & Techniques
Top Tie Dye Patterns, Tips and
Tie Dye Ideas for Unique Homemade Gifts...
You may have heard what a great homemade gift idea tie dye is but we've taken it one step further and provided some great tutorials on how to tie dye. These step-by-step tutorials will be useful to our fellow gift makers, to those who happen to be looking for a unique gift idea and also to those just wanting to learn how to tie dye.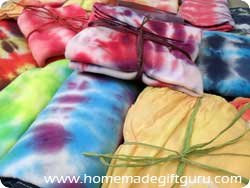 Tie dye has a lot more possibility than some might think. In addition to the classic spiral tie dye t shirt pattern, there are many other easy tie dye patterns (both simple and more intricate in style) to suit a variety of taste.
Nearly anyone can be matched with a perfect tie dye gift, especially when you consider:
the huge variety of both simple and unique clothes and gear that can be tie dyed...
and the various tie dye techniques, both subtle and wildly vibrant for different personalities...
the different color combinations and amazing colors to choose from...
Speaking of colors, there are in fact a huge variety of wonderful colors available for you these days (learn more about tie dye supplies), whether you favor the traditional rainbow selection, or more modern combos like cobalt blue, turquoise, and deep purple or magenta with bubble gum pink.
---
A Few Tie Dye Ideas for Gifting Kids, Teens and Adults...
---
No matter who your gift is for, there is always something to tie dye: baby blanket or onesies, t shirts, scarves, socks, underwear, tote bags, bandanas, tank tops, pajama sets, pillow cases, or even fabric for a sewing project...
And for your crafty friends or for a unique homemade teen gift, you can make a tie dye kit, enclosing everything they need to make their own one-of-a-kind tie dye item (put something unique in there like white long johns, a pillow case or even underwear) so they can express themselves too!
A Few Tie Dye Ideas...
Teen Guys or Boyfriend Gift Ideas: Tie dye t-shirt, tie dye boxer shorts, tie dye pillow case, tie dye bandana
Teen Girl or Girlfriend Gift Ideas: Tie dye bandana, tie dye tote bag, tie dye socks, trendy tie dye shirts and tanks, tie dye pillow case, tie dye scarf or wrap, tie dye boxer shorts (for pjs) or tie dye pajamas
Baby Shower Gift Ideas: Tie dye onesie, tie dye baby blanket, tie dye baby bib
Husband Gift or Gift for Man Ideas: Tie dye t-shirt, tie dye baseball cap, tie dye tie
Wife Gift or Gift for Woman Ideas: Tie dye scarf, tie dye tote bag, tie dye shirt or tank, tie dye socks, tie dye pjs
Homemade Gift Ideas for Kids: Tie dye t-shirts, tie dye tank tops, tie dye socks, tie dye tote bag full of tie dye clothes, tie dye pillow case, tie dye smock
Wow, now aren't you excited? Have you got some ideas about what exciting stuff you could tie dye for your special someone(s)? Following you will find everything you need to know to create some fantastic tie dye projects... and of course, some homemade gifts to be proud of!
---
Tie Dye Patterns and Techniques...
---
Tie Dye Instructions
Start Here. These tie dye instructions will tell you everything you need to know to tie dye, plus give you the tips you need for ultimate success in your tie dye adventures. In addition, you can find individual tie dye tutorials below for a few favorite tie dye pattern ideas...
Tie Dye Patterns and Techniques
So that's it for now on tie dye! Please be sure to show off your tie dye projects and gifts here for others to get inspiration from... it's fun to brag and we'd be honored to show off your pics!
Feeling crafty? Check out our sun sign key chain charms here...

When you put your time and love into your gifts... you might enjoy the "made with love" tags located on our free printable crafts and tags page...
Didn't Find What You Were Looking For?
---
This site is built and maintained using Site Build It!
You could do it too!!! Click here to learn more.
---
Affiliate Disclosure: To help me provide the information and tutorials contained in this website, I may receive monetary compensation or other types of remuneration for my endorsement, recommendation, testimonial and/or links to any products or services from this website. Please note that I only endorse products that I believe would be of value to my readers. Also note that Homemade Gift Guru is a participant of Amazon's affiliate program. I may make a small commission on orders made through my Amazon links. This helps me maintain my site. Thank you for your support!