Homemade Teen Gifts
& Gifts for the Young at Heart
Welcome to Unique Homemade Teen Gifts...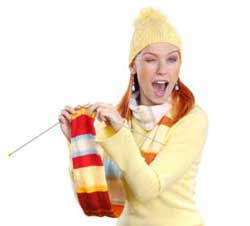 This "coolest" section of gift ideas is dedicated to homemade gift ideas for teens as well as gift ideas for the young-at-heart.
In fact, homemade gifts for teens are among my favorite to make. This is because teenagers love to be original, unique and colorful. Three of my favorite words!
Following are several homemade gift ideas for teens that pass the "cool teen" test. Each of these ideas can be made easily by a teen, for a teen, or by and for anyone young-at-heart...
---
Homemade Teen Gift Ideas...
---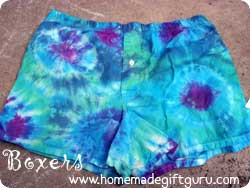 Tie Dye. Tie dye makes great homemade teen gifts. You don't have to do anything too crazy... just make a spiral, play with marbles (shown right), tie off circles... and tie dye something great like... tote bags, boxer shorts, t-shirts, scarves, socks, pillow cases... read more about tie dye ideas here...
Handmade Journal or Art Book. There are many ways to make a homemade journal or a homemade art book. You can make a book by scratch with book screws, sewing or glue, use a book making kit or buy a note book (such as a composition note book as shown below) and embellish it. For homemade teen gifts, try using collage techniques to cover the front and back with funky images, patterns and colors. Recycling an old postcard or greeting card as seen below (see #2) is a great way to give a journal style quick and for no additional cost.
| | | |
| --- | --- | --- |
| | | |
| Easy Homemade Journal #1: This journal is embellished like a scrapbook page or a handmade greeting card. It starts with a notebook base and can be covered and embellished for a quick even last minute gift... | Variation: The possibilities are endless. This journal is made like the scrapped journal to the left but features a button sewn on the front and ribbon glued between the end sheet and back cover for a handy little closure... | Easy Homemade Journal #2: This easy to make journal features an old postcard for a creative centerpiece, framed in torn paper. The method is slightly different than number 1 but still quick and easy... |
Sun Signs. Add personality and personalization to homemade teen gifts and teen greeting cards with Zodiac Birthday Symbols: Get Free Templates and Ideas here...

Homemade Bath and Body Sets. Bath and body kits make great homemade teen gifts. Try making homemade bath salts, sugar scrubs, lotions, scented oils, learn how to make bath powder, hand made soap or even bath fizzies. All these items can be given as part of a set or just packaged in a cool jar or container with a bow.
Homemade Jewelry. Yes, we can all make homemade teen jewelry. A great free resource is Fire Mountain's Free Beading Instructions and I like their products too.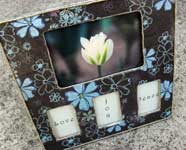 Custom Framed Quotes, Sayings & Song Lyrics. These make great homemade teen gifts. Choose quotes or lyrics that are funny or Spiritual. You can use either a word processing program like Microsoft Word or a graphics program like Photoshop to spell out the saying in fun or funky fonts. Add clip art if you want and print it out on your home printer.
Depending on the frame you choose, you may want to frame the saying as is - leaving it simple or you can embellish it a bit, adding fabric, patterned paper and other materials to suit. The simple decoupage frame above makes a great homemade gift with custom quotes.
Homemade or Embellished Friendship Centered Photo Books. To most teenagers, friendship is a top priority. That's why photo books of all kinds make great homemade gifts for teens. You can make a small album or a large scrapbook.
Tips: If you don't have access to the right photos, try making an album that is complete except for the pictures. Then he or she can fill it up later.
Homemade Bedroom Decor. Make homemade teen gifts for his or her bedroom. Try making a wall hanging of his or her name, a Do Not Disturb sign, a homemade wind chime for the window or an embellished light switch cover to name a few. Spruce up an old lamp (see below), a plain trash can or a simple curtain by sewing or gluing beads, decorating with fabric paint or hot gluing charms and other embellishments. An iron-on patch is also a fun way to turn a plain pillow, curtain or blanket into a cute homemade teen gift.
Lamp Shade. An embellished and/or refurbished lamp shade makes a great homemade teen gift. Add beads, ribbon and more using a used or thrifty lamp as a base.
Embellished Knick Knack Box - Jewelry Box. It's easy to turn a simple wooden box into a fancy jewelry box or knick knack box with art techniques such as decoupage. Keep your eyes out while shopping for used goodies and at discount stores for any box that would make a good base. Then glue felt or velvet inside and use paint, varnish, decals, decoupage paper, glue beads and other stuff until it looks great.
Handmade Earring Rack. I like to stretch a mesh type fabric between a picture frame. Earrings just pop through the fabric and hang for display. There are many options for the exact type of fabric, type of frame and embellishing possibilities. Choose a fabric color that will enhance (or at least not take away from) the earrings such as white, cream, brown or black.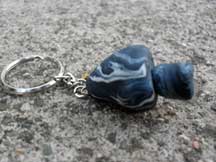 Homemade Key chain. What teen isn't infatuated with their first car? Homemade key chains are easy to make homemade teen gifts using a variety of techniques. With beads, charms, ribbon, polymer clay (just to name a few) all widely available and easy to use, making a homemade key chain is fun and easy. For example, I made the "Alice in Wonderland" mushroom (to the right) with polymer clay (Sculpy) and a paper clip. If you can hook it on a ring - it can be a key chain.
Rear View Mirror Freshener. You can put homemade potpourri in a silky bag with dangling beads and silky dangling ribbon. I also like to add a small crystal, hanging from under the potpourri pouch. Teenage girls especially love this gift! Be sure to use their favorite colors.
Rear View Mirror Hanger. Take advantage of your beading supplies and charms to make a "piece of jewelry" for his or her car. Keep it simple, just string together some beads and a prism or charm of some kind, leaving a loop on top large enough to put over their rear view mirror. Teenage boys usually like a simple version with an appropriate charm (for example, a cross, favorite animal or sun sign symbol might work). Their are so many options available for charms to suit any personality, boys and girls alike.
Crochet Scarf. Yes, you can crochet a scarf or even a hat. After talking to many teens about homemade scarves, I've learned that the key to a successful crocheted scarf teen gift is the yarn you use. Teens like soft yarn in their favorite colors. Look for designer yarns, they may cost a little more but it will be worth it to your teen recipient and you'll be rewarded with the genuine smile of delight that you seek.
Handmade Blanket. Homemade blankets can be simple or require advanced sewing skills. You can make a crocheted blanket (use soft, designer yarn if possible), a quilt or a simple polyester blanket in the print of our choice. There are many options for edging. Add a trendy patch or embroider their name on the blanket.
Memory Book. Filled or Ready for Photos & Memorabilia. This makes a great gift when a teenager is about to embark on something new. You can simply embellish the front cover, make the book from scratch or actually do a bit of scrap booking inside leaving spaces for him or her to put their own photos.
Homemade Music CD. Custom Burned Play list and Embellished Sleeve. Choose favorite current songs, songs from the past decade or favorite oldies listened to with mom or dad. This is a good chance to tease a bit if some of the music they used to like way back when is funny to them now. Here's some links to free cd burning programs if you need one.
Homemade Hair Clips, Hair Ties. Buy some basic clips at the dollar store and hot glue on beads and ribbon. Or use polymer clay to make a custom embellishment. You can also use fishing line to wrap and attach beads for a cute beaded hair clip.
Funny Homemade Magnets. Make a homemade magnet. You can buy small magnets at any craft store and then hot glue them to the back of an ornament of some kind. Make your own creation with clay or browse your local one dollar store for cute or funny stuff to make into magnets such as silk flowers, sea shells, tiny picture frames, notepads and craft supplies. You can even use stuff from nature like a framed fall leaf, acorns or even dried fruit or a dried mini flower bouquet. Note: Spraying these items with sealer will help them last a long time.
Homemade Candles. Make candles from bright colors or using favorite scents. You can melt down old candles into cute heat safe containers (balancing the wick in the center with a pencil) or buy wax at the craft store and scents too. Make homemade molds in wet sand or out of recycled items such as milk cartons or tin cans. If making candles sounds too involved, you can embellish a plain candle by hot gluing beads or rhinestones in the pattern of your choice or decoupage it with stickers. Important Safety Note: Embellished candles are safe for decorative use only, lighting them can result in the embellishments catching fire.
---
Tips For Choosing Homemade Gift Ideas for Teens:
Truly It's not really that hard to please a teen with homemade teen gifts. Believe it or not, knitted scarves can be cool. Just choose a super soft yarn and a modern color...
Homemade journals and art books are way cool for a teen and also from a teen. Homemade bedroom decor is all the rage. Bath and Body tends to be appealing to girls of all ages.
Remember - every teen is different, so the color and the details of your designs will ultimately be determined by what you know about their unique taste.
---
Make Your Homemade Teen Gifts Unique
Depending on the teen you are planning for, you may want to personalize your homemade teen gifts with his or her favorite colors, symbols or music logos.
For more information, read Personalize It! With Inexpensive Homemade Gift Ideas.
Didn't Find What You Were Looking For?
---
This site is built and maintained using Site Build It!
You could do it too!!! Click here to learn more.
---
Affiliate Disclosure: To help me provide the information and tutorials contained in this website, I may receive monetary compensation or other types of remuneration for my endorsement, recommendation, testimonial and/or links to any products or services from this website. Please note that I only endorse products that I believe would be of value to my readers. Also note that Homemade Gift Guru is a participant of Amazon's affiliate program. I may make a small commission on orders made through my Amazon links. This helps me maintain my site. Thank you for your support!