How to Make Candy Bouquets
How to Make Candy Bouquets: Candy Gift Ideas Using Vases, Cans and Pots
Are you looking for a sweet and satisfying homemade gift idea that requires no baking? Here you go!
By learning how to make candy bouquets, you'll always have a fun, creative and affordable gift idea up your sleeve.
They work for any and all occasions... depending on the vessel you use and of course, the candy you choose.
I always enjoy seeing candy bouquets at my local grocery store but making them myself is much more exciting. Here I'll teach you the basics of how to make candy bouquets and then I'll link to some specific projects.
The first question is what type of candy bouquet you would like to make...
---
How to Make Candy Bouquets
---
There are many sizes, vessels and types of candy to choose from when making candy bouquets...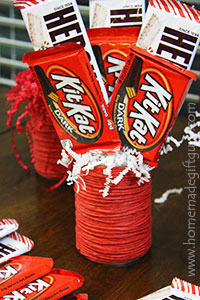 1... Size. Candy bouquets can be made very small or very large. This makes them a great choice for homemade gifts!
For example... You can make one big scrumptious candy bouquet for:
A spectacular graduation gift
A romantic Valentine's Day gift
An impressive homemade birthday gift
A fun hostess gift (I like making them for game day get-togethers!)
You get the idea!
Or you can make them small (maybe even make several) for holidays that you would normally do a lot of gifting for such as Christmas or New Years.
2... Vessel. There are a ton of vessels to choose from when making candy bouquets. You can use tin buckets, small plant pots, glass vases, jars, re-purposed tin cans or other decorative and festive vases you may find, such as ceramic shapes or watering cans.
3... Foam. Next, you will want a piece of craft or floral foam that fits nicely inside the vessel you've chosen. You may end up fitting it snug inside or even hot gluing it inside. It all depends on the vessel.
Occasionally there are times when you won't use any foam, such as when making a candy bouquet using a vase with a slender neck.
There are usually a few different types of foam available at craft stores and dollar stores.
Sometimes I even raid my kids' toy box for old, broken or unused foam pool noodles. To the left you can see a piece of foam pool noodle that I cut to fit inside a small jar. Cheap and easy!
4... Candy. The best part of this homemade gift idea is choosing the candy!
Choose chocolate sour and/or fruity candy. Whatever is best for the person and occasion.
5... Supplies. In additions to a vessel, foam and candy, you will need the following supplies...
wooden skewers (shown to the right)
hot glue gun or clear packing tape (scotch tape isn't strong enough)
decorative materials such as ribbon, gift tags, crinkle paper or tissue paper as desired
---
Step-by-Step Candy Bouquet Tutorials
---
Following I've included 3 step-by-step tutorials showing you how to make candy bouquets using tin cans, small pots and clear vases. Each one of these candy bouquet instructions can be used for any holiday or occasion by planning your colors, candy and gift tags according to that occasion so have fun and happy gifting!
1. Candy Bouquet Instructions... Fun and Frugal Using Tin Cans
Here's how to make candy bouquets using a tin can for the base! Re-purposing a tin can makes this homemade gift extra frugal (costing only as much as the candy you give plus a few craft supplies you may even have already) and super fun, since you get to create a beautiful "vase" from a boring ol' tin can.
DIY Candy Bouquet Instructions... Let's Get Started!
2. Make Candy Bouquets Using Plant Pots... So Cute
Plant pots are super cute for making several smaller candy bouquets for any occasion. This homemade idea comes together super fast and easy. Here's how to make candy bouquet arrangements in little plant pots or decorative tins.
3. Here's how to make elegant candy bouquets IN A VASE
You can make candy bouquets using a variety of beautiful glass vases!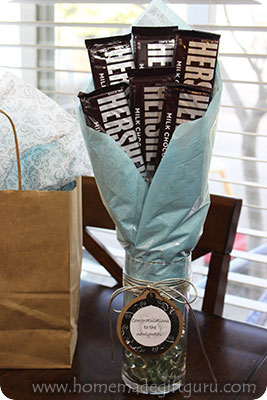 A glass vase adds a classy touch to any candy bouquet. Some of my favorite occasions to give homemade candy bouquets in vases include...
Wedding Celebrations
Valentine's Day
Anniversary Celebrations
Mother's Day
Sweetest Day
Birthdays
See here, how I made the chocolate candy bouquet above for a Wedding gift!
---
More Tips and Ideas for Fun Candy Arrangements...
Holiday Candy Bouquets... For holidays you can throw in one or more holiday themed candy bars. For example, this Easter Candy Bouquet features a chocolate bunny for Easter and this Valentine's Day Candy Bouquet features a chocolate Valentine bear!
You don't have to use candy! There are other foods that can be used instead...
Fruit Roll-ups and Fruit Leathers
Individually packaged Nuts and Seeds
Beef Jerky Sticks
Individually packaged dried fruit
Single serving packaged nut butters
You can also throw in small stuffed animals, cute little festive or embellished signs, a toy, art supplies, ornaments etc.
More Candy Bouquet Instructions and Ideas...
---
Don't you just LOVE seeing what other people made??? I know we do! Please snap a picture and share your creation here...
...and check out what other people have shared!
Have you ever given a homemade gift in a jar?
There are many wonderful things you can give in a beautiful clear jar... You can layer ingredients for cookies, make a food gift mix or put together an easy bath salt recipe.
Learn about creating homemade gifts in jars here...
Didn't Find What You Were Looking For?
---
This site is built and maintained using Site Build It!
You could do it too!!! Click here to learn more.
---
Affiliate Disclosure: To help me provide the information and tutorials contained in this website, I may receive monetary compensation or other types of remuneration for my endorsement, recommendation, testimonial and/or links to any products or services from this website. Please note that I only endorse products that I believe would be of value to my readers. Also note that Homemade Gift Guru is a participant of Amazon's affiliate program. I may make a small commission on orders made through my Amazon links. This helps me maintain my site. Thank you for your support!