How to Make Greeting Cards
Make Your Own Cards with
Easy Card Making Ideas for Every Occasion
Do you make greeting cards yourself? Whether the answer is yes or no, you'll probably like to know that there's lots you can do without buying expensive embellishments!
And that's exactly what we focused on here!
If you've got basic supplies like paper, scissors, glue, buttons, stickers and ribbon... then you're ready to get started!
---
It's Thrifty to Think Outside the Box
---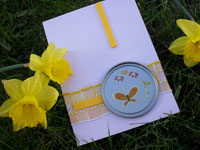 When you make greeting cards for fun, nothing is off limits as long as it's reasonably flat - just check out this recycled craft card (shown to the right) for example.
And, for some of us, it can get a little crazy at the craft store picking out card making supplies. Why? Maybe it's because they're just all so cute, it's hard to choose!
Ok, that's not so bad but then I end up with a basket full of super cute stuff that cost a super lot of money and... uh oh! It really does add up fast...
That's why I love card making projects that utilize more basic craft supplies like flowers from my own garden and the paper, ribbon and beads already in my craft box.
---
Getting Started With Easy Card Making...
---
If you're new to card making, you might like to read how to make a card using a card blank. A card blank is simply a blank folded canvas that makes your cards easier to start, sturdier and easy to write in.
And here's our crafty collection of creative card making ideas (all using basic supplies)... Each one of these ideas can be customized using the paper and supplies you have on hand. You'll find printable card making templates when needed!
Greeting Card Gifts... Greeting cards can be super simple like those above, or they can be the gift themselves, featuring an extra special centerpiece like a charm, beads or a special photograph (make your own beaded charm cards)...
You can also have fun with beads without the charms by getting creative with say.... a key chain ring? Here's a beaded charm card (no charm required)...
Another Simple (and inexpensive) Way To Make Greeting Cards Stand Out: Dimensional cardmaking is a great way to add that extra touch to your simple craft cards...
You can buy dimensional dots and foam pieces to put under select embellishments so they stand out... or for less money you can use children's craft foam (the sticky backed kind in particular is a joy to work with) and cut it as needed and as desired.
---
Envelope Templates and Ideas
---
If you buy your own card blanks, they will probably come with envelopes. In many cases, you will want a customized envelope, one that matches your cards in color, pattern, design and of course size. To achieve this, you can make your own envelope or embellish a white envelope as needed...
Tip: Bulky and/or delicate handmade greeting cards may need to be sent in a padded envelope, such as a bubble mailer.
---
Card Making Resources...
---
Free Printable Tags: all exclusive to this site... view and print any of our gift tags and gift tag templates for free!
A Few Easy Card Making Projects:
Didn't Find What You Were Looking For?
---
This site is built and maintained using Site Build It!
You could do it too!!! Click here to learn more.
---
Affiliate Disclosure: To help me provide the information and tutorials contained in this website, I may receive monetary compensation or other types of remuneration for my endorsement, recommendation, testimonial and/or links to any products or services from this website. Please note that I only endorse products that I believe would be of value to my readers. Also note that Homemade Gift Guru is a participant of Amazon's affiliate program. I may make a small commission on orders made through my Amazon links. This helps me maintain my site. Thank you for your support!