Napkin Decoupage Box
Decoupage Projects: How to Make a Napkin Decoupage Box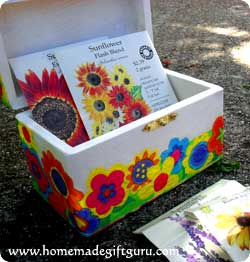 You can make an adorable and thoughtful homemade gift using an unfinished wooden box (find them at craft stores and dollar stores) and paper party napkins (often left over from parties and other events)...
You can then fill your decoupage box with flower seeds, playing cards, sentimentals such as photos, poems or memorabilia or anything else you can think of depending on the theme of the party napkins you use.
---
Personalize This Gift Idea For Any Occasion...
---
Depending on the theme you choose, your napkin decoupage box could make a great homemade thank you gift, birthday gift for boy, birthday gift for girl, party favor idea, gift for a coworker, Mother's Day gift, Father's Day gift... just about any occasion.
Here's a Few Ideas For Customizing Your Napkin Decoupage Box:
Sports themed party napkins for giving baseball cards
Superhero party napkins for giving super hero trading cards (or other characters and character cards)
Artsy party napkins for giving your own artist's trading cards
Floral themed party napkins for giving potpourri, bath and body (ex. bath bombs, bath salts, lotions etc), flower seeds
Sentimental themed party napkins for giving photos and memorabilia
Holiday themed party napkins for giving holiday themed candy
Game night themed napkins for giving dice and playing card decks
Wedding themed napkins for giving homemade wedding gifts to those in your wedding (such as Bridesmaids gifts etc.)
Tropical and Beach themed party napkins would make a great decoupage box for someone who collects sea shells and might need a special place to keep them
Valentine's Day or Anniversary themed party napkins for giving small romantic gifts (memorabilia, love notes, photos, massage oil) to your boyfriend or girlfriend etc.
and more... browse around a party supply store for inspiration. Build your box around his or her party theme for a custom homemade birthday gift idea...
---
How to Decoupage Instructions For This Napkin Decoupage Box
---
So you've got an unfinished wooden box!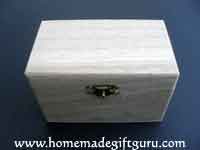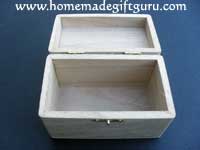 And some left over party napkins... (perhaps you even nabbed that gorgeous napkin from that party the other day with art in mind)...
You could make a napkin decoupage box!... printed paper napkins make for some very interesting decoupage designs...
You can of course use other thin paper in place of paper napkins... (think magazines, calendars, gift wrap etc)
Step-by-Step Decoupage Instructions:
(Napkin Decoupage Box)
Materials and Tools:
Wooden box
Decorative Paper Napkin and Scissors
Fine sand paper
White acrylic paint and paint brush
Decoupage glue or all purpose white glue and foam brush
Varnish and wide soft brush
Helpful Items: Paper towels, lint free cloth and moist rag for keeping fingertips clean
Optional: you may need a craft knife (see step 6)
To Make a Napkin Decoupage Box: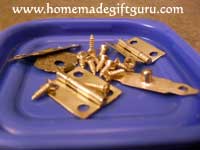 Step 1. Remove any hardware. To avoid getting paint, glue and/or varnish on metal clasps and screws, it's best to remove these pieces before you start. You can often use a small screw driver (or even a small pair of scissors, depending on the shape and size of the screws). Keep hardware in a very safe place.
Step 2. Lightly sand the box. Very lightly sand and smooth entire box, especially any rough edges. Wipe with lint-free cloth.
Step 3. Paint. Paint box inside and out with acrylic paint or spray evenly with spray paint. It usually takes a couple coats. Allow each layer to dry according to manufacturers instructions, sand lightly between layers.

Tips: It's best to use a light color of paint such as white due to the thinness of napkins. Dark colors will usually show through napkins and other light weight papers.
Or... For an aged look, you could also opt to paint one darker coat of paint followed by a coat of white. Later on, after your image is adhered, you could use crackle medium on the areas of your choice, adding to the depth and contrast of your decoupage project.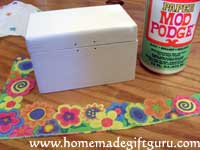 Step 4. Cut image. Cut out design(s) from napkin. Be sure to gently separate any layers that the napkin may have.
Step 5. Glue Image. After you've settled on the placement of your design, it's time to glue it on. Using something like Modge Podge (decoupage glue) or watered down Elmer's glue, apply a light coat to the box where you want to glue down your design. Gently press your design to the box and allow to dry thoroughly before continuing decoupage project.
Note: Because paper napkins are so thin, it's usually not necessary to moisten the paper before gluing, however, a very light mist can be applied if you're worried about wrinkles. Moisture will of course make the napkin even more delicate. See decoupage instructions for more tips and instructions if needed.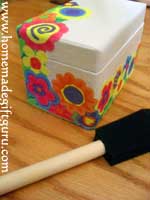 Tips: You can work in sections, apply glue with a foam brush, press on image and gently smooth image starting at a center point and working outward.
Keep hands clean as most napkins will bleed onto your hands when wet, which can then transfer back onto your project.
It's a good idea to keep paper towels, a small bowl of water and damp rags next to you as you decoupage. You can also use paper towels to help smooth, provided you are very gentle.
Step 6. Cut if needed. After gluing down your design and allowing to dry, use a razor blade to slice design if needed, where box needs to open.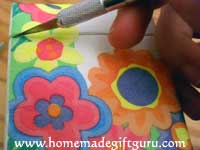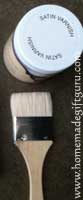 Step 7. Varnish. Once everything is glued down and thoroughly dry, it's time to apply varnish. If you'll be doing any other decorating (such as using crackle medium, do this first). Once your box is to your liking, apply one layer of varnish with a very soft wide brush, do this very gently and very quickly to avoid colors bleeding. Allow to dry and repeat as needed over entire box.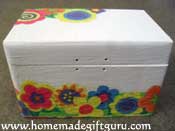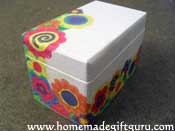 Step 8. Hardware. Put hardware back on and you're done!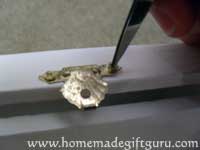 Now, look at the beautiful napkin decoupage box you have made... a Spring flower theme like the one below could be paired up with a few packets of easy to grow flower seeds (such as Sunflower seeds).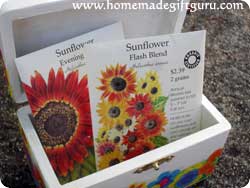 ---
Under The Lid of Your Napkin Decoupage box
---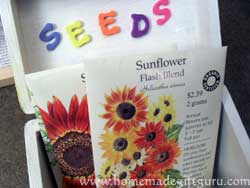 You can also customize the inside of the lid for a surprise when the box is opened using:
Photos
Letters
Quotes
Affirmations
Bible Psalms
Other Images
Scrapbook Embellishments
and more...
Speaking of customizing your decoupage projects... this decoupage frame is made special to hold uplifting affirmations for a Mother's Day gift or can be used for other occasions such as homemade birthday gifts!
We also have more tips and decoupage instructions...
Didn't Find What You Were Looking For?
---
This site is built and maintained using Site Build It!
You could do it too!!! Click here to learn more.
---
Affiliate Disclosure: To help me provide the information and tutorials contained in this website, I may receive monetary compensation or other types of remuneration for my endorsement, recommendation, testimonial and/or links to any products or services from this website. Please note that I only endorse products that I believe would be of value to my readers. Also note that Homemade Gift Guru is a participant of Amazon's affiliate program. I may make a small commission on orders made through my Amazon links. This helps me maintain my site. Thank you for your support!