Homemade Valentine Gifts
Make Your Own Valentine's Day Cards and Easy Homemade Valentine Gifts
Year after year, Saint Valentine's Day falls on the 14th of February. On this day, romantics all over the world are sure to do something special for their beloved.
Kid's celebrate too as they put some of their best work ever into cards for their parents and sometimes for their friends. Parents too, often make or provide Valentines and Valentine's Day candy for their kid(s) to give out at school.
Whether you are about to celebrate your first Valentine's Day with your boyfriend or girlfriend, your 20th with your spouse or you've got kids and you want to make it extra special for them, Valentine's Day is a Holiday worthy of your creativity.
---
Valentine's Day Cards
---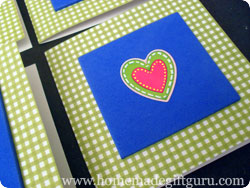 Ever get tired of store bought Valentines? You can instead, make your own Valentine cards for family and especially for your kid's Valentine exchange at school.
You may think you don't have time for such a task... but here's how to make several easy homemade Valentines for in 10 minutes or less.
If you have a little time, you could also create these Valentine's Day Cards with Pockets to enclose candy, stickers, temporary tattoos, a charm or a hand written love note for someone special. The original larger pouch card works too for enclosing more candy or a larger item.
---
Treats and Treat Boxes
---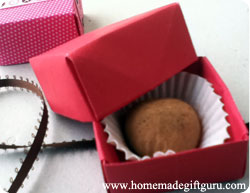 If you make your own treats for homemade Valentine gifts such as truffles, fudge or cookies, you can use Valentine colored or Valentine patterned paper to make origami boxes for individual sized treats.
One box can enclose a handmade:
cookie
brownie
fudge square
chocolate
Or even a few store-bought candies such as hershey's kisses, jelly beans, conversation hearts, chocolate covered coffee beans (for adults of course - I get these in bulk at the grocery store) etc... You could also go to a gourmet chocolate shop or your local handmade chocolate shop and purchase a few fancy chocolates to include one per box.
Make just one origami box per person or make several and stack them up for your own homemade Valentine gift treat tower. To make your own treat tower, stack either 4 of the same small size, each with a special treat and all wrapped in a ribbon... or make 3 - 4 different sizes using larger and larger paper for each, creating a fancy treat tower like they sell in specialty gift shops.
---
Simple Kid's Gifts for Valentine's Day
---
If you get tired of giving sweets or you can't for any reason, you could give homemade play dough in Valentine colors or wrapped in colored plastic wrap.
You could also attach one or more plastic wrapped red play dough balls and a heart shaped cookie cutter to a balloon to give for small homemade Valentine gifts.
You can make homemade Valentine gift treat bags full of things like:
These items are available at dollar stores, crafts stores and party supply stores... and also Amazon.
This year, I got these adorable "neon monkey" temporary tattoos
for my daughter and friends. Below are a few other trinkets you could include...
---
Free Valentine's Day Ideas
---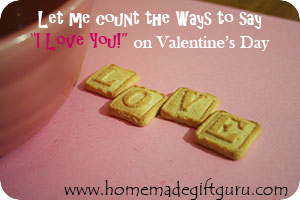 Homemade Valentine gifts are sweet to give and so are the following simple, free and easy things you can do to make the day special. There are ideas that lean toward romance for your partner and also things that you can do to sweeten the day for your children.
Make breakfast in bed for your loved one. A single rose in a vase adds a nice touch to breakfast in bed spreads.
Put a few Valentine sprinkles or candy hearts on your children's cereal, pancakes or oatmeal on Valentine's Day morning. Put a single Valentine heart candy with your favorite message on your partner's breakfast or lay several around the plate.
Make your partner's lunch and put a love note in their lunch bag... write it on paper or directly on their napkin. Try to make it a surprise.
Write a sweet or sexy message for your partner on the mirror or in the shower with kid's bath crayons.
Hide a note or notes in places you know he or she will see (underwear drawer, in the microwave, on the coffee maker, on the steering wheel, on his or her computer screen, in the shower, on his or her favorite coffee mug). Use paper to write a love note or write cute sayings on post-it notes like "you're sexy" or "hi hottie" or simply "I Love You Gorgeous/Sexy/Cutie..."
Write a message of love to each of your children or grandchildren on their lunch napkin and slip it in their lunch bag(s).
Give your friend or child a red or pink nail polish manicure or pedicure... buy tiny heart stickers or nail rubons and seal them on nails with clear coat.
Print out one of our free printable coupons and make gift certificates (a.k.a. love coupons)...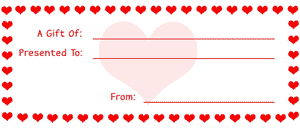 Say I Love You to those you love.
Do something unusual, something you don't do often, that shows you care... depending on what you normally do, you could give your partner an oil massage, make their favorite dinner, rub his or her feet with lotion or oil, brush her hair, take a walk (holding hands)... make it something simple but that they really enjoy.
Clean your child's bedroom for them and place a few heart shaped trinkets or pillows around their room.
Clean your partner's car and leave a Valentine card on the steering wheel... make it a surprise if you can.
Arrange to have someone watch the kid's and go on a date... or stay home and spend time together without interruptions or distractions!
Homemade Valentine gifts can be wrapped up and tagged with my free printable heart tags.
You may also like:
Didn't Find What You Were Looking For?
---
This site is built and maintained using Site Build It!
---