Homemade Journal and Other Homemade Book Ideas
Make Your Own Book & Journal Gifts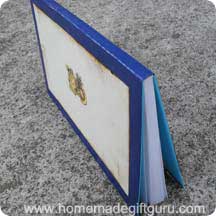 There are several different ways to make a homemade journal, ranging from quick and easy methods to advanced book making. Here I've outlined those on the easier side of the spectrum and provided some super easy to make journal ideas as well.
The easiest way to make a journal gift is to embellish a notebook. The notebook is covered inside and out to give a professional finish from front to back. You can then decorate as desired. Scroll down for a couple of these easy homemade journal tutorials.
On the other hand, you may want the freedom to choose the type of paper used to fill the journal and perhaps the exact size of the book. In this case you should try binding your own book. You can bind your own book using heavy duty glue, book screws or binding thread or you can purchase a book binding kit.
Custom Themed Homemade Book and Journal Ideas:
Homemade journals make great homemade teen gifts but they can also make great gifts for adults. One way to make them extra meaningful for teen or adult is to choose a theme for the journal. Pick something they will really resonate with like:
Garden Notes - Gardeners often keep a notebook for recording information about their garden such as planting dates, varieties planted, sketches of their garden's layout and dates of any treatments of fertilizers, herbicides etc. All this information makes it easy to see what works best and to utilize best methods each year.
Idea Book - This is a great way for people to record their inspirations. Perhaps they are starting a new business or they are constantly thinking of new ideas for a favorite craft or hobby. Design the cover with their hobby or business interest in mind. It feels really good to get all your ideas "out of your head" and onto a piece of paper so this theme can be truly a gift.
Poetry Book - To record their finished poems or poems in progress.
Creative Writing Book - For someone getting into short stories or any creative writing.
Song Book - For someone who writes songs or lyrics.
Art Journal - Anyone that's into art and crafts of any kind needs a sketch book for their ideas. It doesn't need to be made with fancy paper, any blank paper will be good enough to sketch art ideas. This is great for any artist, potter, ceramicist or crafter to name a few.
Quote Book - For someone who likes to collect quotes.
Ideas for themed homemade and embellished journals are endless but I hope the above brainstorming helps. Following are some cute embellished notebook journals that you can customize in an endless array of colors, patterns and themes...
Here are some homemade gift ideas for embellishing a store-bought notebook into the unique hand-decorated journal of your choice. Click on the links below for the full tutorials.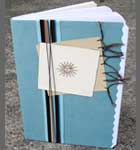 This easy homemade journal utilizes a composition notebook, patterned paper, ribbon, embroidery thread and stamping. It is extremely easy and inexpensive as well.
If you have a notebook and some pretty paper, you can make a journal using these instructions as a guide. Embellish your journal with the materials you have on hand.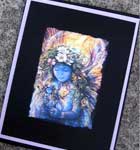 Here is another easy to make journal. Using similar methods you can use heavy paper and a postcard, card or image of some kind to make a journal with lots of personality.
What makes this decorated journal special, is the recycling of an old image that might otherwise not be used again. Whether you use an old drawing, postcard, card or photograph - you'll enjoy finding a new use for it as the centerpiece for your journal gift.
Didn't Find What You Were Looking For?
---
This site is built and maintained using Site Build It!
You could do it too!!! Click here to learn more.
---
Affiliate Disclosure: To help me provide the information and tutorials contained in this website, I may receive monetary compensation or other types of remuneration for my endorsement, recommendation, testimonial and/or links to any products or services from this website. Please note that I only endorse products that I believe would be of value to my readers. Also note that Homemade Gift Guru is a participant of Amazon's affiliate program. I may make a small commission on orders made through my Amazon links. This helps me maintain my site. Thank you for your support!