Libra Symbol Art Charms
For Homemade Key Chains, Make Your Own Magnets and Birthday Symbol Charms Using The Libra Symbol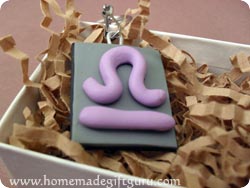 This Libra zodiac symbol art charm idea can be used for making easy homemade key chains, homemade magnets or homemade rear view mirror charms...
They make clever homemade graduation gifts...
Fabulous homemade boyfriend gift ideas and girlfriend gift ideas...
And creative homemade birthday gift ideas for friends, siblings, even dads...
However and whoever you decide to make your zodiac charm for will be your choice. Either way, it will be a thoughtful and personalized homemade gift for someone special.
---
How to Make a Libra Symbol Art Charm
---
Materials:
Polymer clay (Sculpey III) in two colors
Metal paper clip
Helpful Tools:
Wax paper
Masking tape
Wire cutters
Straight edged knife or something to cut clay
Tooth pick
Rolling pin or straight sided glass to roll clay out with
Baking sheet
Oven
Lint free cloth and/or baby wipes for easy clean up during and after
---
Libra Zodiac Symbol Step-by-Step Instructions
---
Prepare work surface. Tape a piece of wax paper to your work surface.
Condition Clay. Your polymer clay will be hard and slightly brittle at first. To soften, break it up into 3 or 4 pieces and warm in hands. Start kneading and twisting clay. As clay gets softer, start rolling into snake like lengths, squish and press back together, roll into ball and repeat until clay is soft, smooth and even. Do this for each color.

Tip: If needed, wipe hands with cloth or baby wipe between conditioning different colors.
Flatten Clay. Do this however you like. One clean and simple way is to put a ball of clay between layers of wax paper and use a straight edged glass to roll it flat. Pick up the disk a couple times to prevent sticking.

Tip: Wipe work surface clean with a lint free cloth between rolling different colors.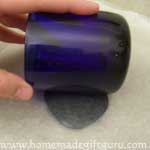 Trim Clay For Base. Using a knife or other straight edge tool, cut two flat squares or rectangles, each in a different color and one slightly larger than the other.
Prepare paper clip. Open the paper clip and cut off the end as shown.
Enclose paper clip. Sandwich the paper clip between the two flat pieces of clay. Leave the end of the paper clip out so you can attach a key chain or use as a charm.

Roll out Clay. To make the Libra symbol, roll clay out evenly into a very thin snake like length. Cut into two pieces.
Make Libra Symbol. Take the rolled polymer clay and mold into the Libra sign as shown to the right. Press down gently to stick, taking care not to flatten or leave finger prints.
Bake Clay. Bake clay on a parchment lined baking sheet in a home oven at the temperature and time specified on manufacture's instructions. For the Sculpey III used here, the pieces were baked at 275° F (130° C) for 15 minutes. Do not over bake, this clay will scorch rather easily.
If desired, you can add a key chain ring (from a craft or dollar store) or make it into another type of charm or a magnet...
---
More Libra Symbol Art Charm Tips and Ideas...
---
To make a magnet, leave out the paper clip and once baked, glue a magnet to the back or attach self sticking magnet strips.
These make great homemade birthday gift ideas , homemade teen gifts, homemade boyfriend gift ideas or girlfriend gift ideas and homemade graduation gifts for friends.
Use whatever colors you like.
String it up for a cute rear view mirror charm.
More Sun Sign Symbol Art Charms: Aries Symbol, Taurus Symbol, Gemini Symbol, Cancer Symbol, Leo Symbol, Virgo Symbol, Scorpio Symbol, Sagittarius Symbol, Capricorn Symbol, Aquarius Symbol, Pisces Symbol
Coordinating Homemade Gift Ideas...
Origami Box Instructions

An origami gift box is a fun and creative way to give this Sun Sign Art Charm...

Make a Pouch Card

Make a pouch card for a unique way to enclose and send a Sun Sign Art Charm for that special birthday guy or gal...

All 12 Birthday Symbols

Get templates for each of the Birthday Symbols and learn more about creating and crafting with Sun Signs on our Birthday Symbols main page...
Didn't Find What You Were Looking For?
---
This site is built and maintained using Site Build It!
You could do it too!!! Click here to learn more.
---
Affiliate Disclosure: To help me provide the information and tutorials contained in this website, I may receive monetary compensation or other types of remuneration for my endorsement, recommendation, testimonial and/or links to any products or services from this website. Please note that I only endorse products that I believe would be of value to my readers. Also note that Homemade Gift Guru is a participant of Amazon's affiliate program. I may make a small commission on orders made through my Amazon links. This helps me maintain my site. Thank you for your support!