Create a Birthday Card
Just paper and ribbon are used to make this customized child or teen greeting card...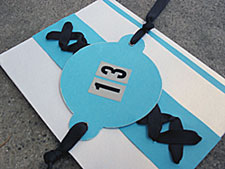 You may like to create a birthday card that features the age of the birthday girl/boy. It's a nice way to say, "Wow, you're 13!" (or whatever age they're turning).
We've provided a template so you can create a birthday card like this one, only with your own customized flare. All you need is basic supplies... paper, ribbon and whatever you decide to apply the numbers with.
No need to buy any special card embellishments. Just print out the template below and make sure you have the basic tools and supplies listed in the colors and patterns you choose.
---
How to Create this Birthday Card
---
Supplies for Child and Teen Card Making Project:
Card Blank in size 5 x 6.5 inches
Template: Print our Card Making Template
Card stock: Two different colors or patterns (used here is pearlescent white for the background and aqua blue for the embellishments)... at least 5 x 6.5 inches of each paper.
Ribbon: 1 1/2 yards of 1/8 inch (3 mm) or 1/4 inch (6 mm) wide ribbon.
Black Marker for numbers or number stickers (here I used some reflective number stickers leftover from re-doing our mailbox).
Optional: 2 silver eyelets, 1/8 inch size
Tools:
Paper
Scissors
Decorative Scissors
Paper Glue/Adhesive
1/8 inch hole punch or an awl for punching holes
eyelet setter if using eyelets (optional)
Cut & Punch Paper Pieces. Decorate Circle.

1. Cut 1/2 inch off the front right side of your card blank (this leaves 1/2" of inner card showing).
2. Use the "ribbon-tag card making template" to create the two embellishments shown to the left.
3. Punch 1/8 inch holes as indicated by black dots on templates.
4. Now is the best time to draw numbers or place number stickers on circle embellishment in the age of the birthday girl/boy. You can also use paint or ink to distress the edges of the embellishments if you choose.
5. Cut pearlescent white card stock (or whatever color you chose for front of card) to 5 x 6 1/2" and trim 1/2" off the right side so you have a 4 1/2 x 6 1/2 and a 1/2 x 6 1/2" piece.
6. Align circle embellishment on 4 12 x 6 1/2" cardstock in final position. Using circle as guide, punch the two holes all the way through cardstock.
7. Use decorative scissors to create a 1/2 x 6 1/2" strip in the same color paper as embellishments, left side trimmed with decorative scissors.
Sew or Weave Ribbon and Attach Embellishments.

1. Take 1 yard (36 inches) of ribbon and sew or weave the ribbon through the holes in the rectangular embellishment.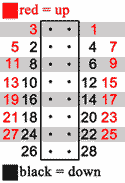 The pattern to the right shows how to sew a criss cross pattern with the red numbers indicating to pull the ribbon up through the paper and the black numbers indicating to pull the ribbon down.
2. If you choose to use the eyelets, set them now in the punched holes of the circle embellishment.
3. Line up the holes in the 4 1/2 x 6 1/2" piece of card stock and those in the circle embellishment. Pull 8 inches of ribbon through the holes on each side of the card stock and circle embellishment. Tie ends of ribbon on each side using overhand knot as seen above.
4. Cover back of rectangular embellishment with glue and carefully slip it behind circle embellishment, pressing evenly once it's in place.
Attach Everything to Your Card Blank.

1. For inside of card, glue the 1/2" straight strip inside the card blank on far right.
2. Then glue the decorative edge strip 1/4" in from the left with the decorative edge facing in (it will overlap previously glued strip). Your inside is done!
3. Now glue the fully embellished card stock to the front of the card blank, careful to line up all edges. Allow your card to dry (I like to place a heavy book on top of my card to encourage it to stay flat) and your done!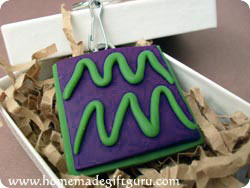 You could also use this idea with a birthday astrology sun sign. Rather than putting the birthday age, trace a birthday astrology symbol using our templates.
Didn't Find What You Were Looking For?
---
This site is built and maintained using Site Build It!
You could do it too!!! Click here to learn more.
---
Affiliate Disclosure: To help me provide the information and tutorials contained in this website, I may receive monetary compensation or other types of remuneration for my endorsement, recommendation, testimonial and/or links to any products or services from this website. Please note that I only endorse products that I believe would be of value to my readers. Also note that Homemade Gift Guru is a participant of Amazon's affiliate program. I may make a small commission on orders made through my Amazon links. This helps me maintain my site. Thank you for your support!