Spiral Tie Dye T Shirts & More
Learn How to Tie Dye T Shirts, Scarves, Tank Tops and More with the Spiral Tie Dye Technique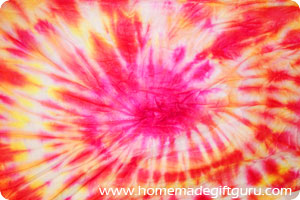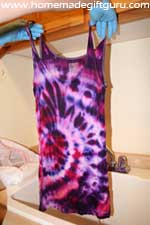 The spiral tie dye technique is likely to be the first to come to mind when you think of tie dye patterns. It is very popular and can be very "60's" with bright rainbow spirals or it can be toned down quite a bit depending on the colors you choose.
And you don't have to stop with a tie dye t shirt... you can tie dye tank tops, create adorable tie dye onesies, tie dye bedding (pillow cases are super fun and easy), scarves, hats, tote bags... even boxer shorts!
Tie dye clothes make great homemade gifts for kids, teens and adults, so we've provided step by step instructions for the spiral tie dye pattern as well more examples of spiral tie dye projects below so you'll have a good idea how they will turn out (no 2 are ever exactly the same!).
If you're new to tie dye or you want the benefit of our many tie dye tips, visit our tie dye instructions page first...
---
Tie Dye Techniques: Create a Spiral Tie Dye T Shirt
---
Step 1. Garment Preparation
See tie dye instructions... don't forget the soda ash!
Step 2. Prepare Workspace
Step 3. Bind Fabric (Spiral Binding Technique)
Pinch and Twist. Wearing gloves (fabrics will be damp with soda ash water), start by pinching the spot you want the spiral center to be. It is often easiest to choose the center of the shirt. Twist the fabric firmly from this point.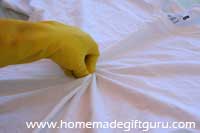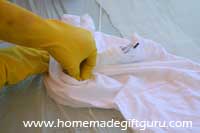 Continue twisting fabric while flattening down the top until you have a twisted up round disc.
Bind Fabric. Next, bind the fabric with 4 - 8 rubber bands (or however many you want). Use the rubber bands to keep the disc round, tucking loose bits of fabric under the rubber bands as needed.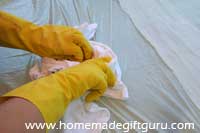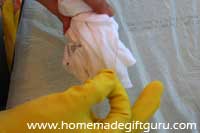 After binding the disc with rubber bands, it should resemble a sliced up pie.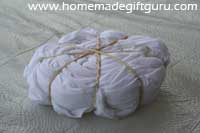 Step 4. Prepare Dye
See tie dye instructions... use high quality dye!
Step 5. Dye Fabric
Squeeze or pour dye as desired. Many people choose to apply a different color to each section between the bands. Alternate colors however you like. Allow dye to soak deep into the disc of fabric as you apply it in various spots. Don't be shy, apply dye liberally!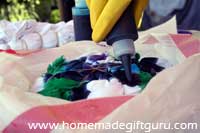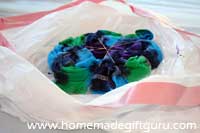 Tip: I use a kitchen trash bag to both contain my mess as I dye and then to wrap my project in afterward...
Step 6. Cover Fabric and Allow Dye to Set
Step 7. Rinse in Warm Water
Rinse garments in warm water to remove excess dye. Remove any rubber bands and start to untwist as you rinse. Continue rinsing until water runs nearly clear.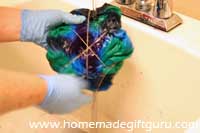 You may notice that some fabrics as well as some colors take longer to rinse than others. When you're done rinsing each garment, put rinsed fabric on a clean plastic bag (or other plastic) and never let your various projects lay against each other at this stage, the dye will transfer at this point.
8. Wash and Dry Fabric
See tie dye instructions... don't forget to wash in Synthrapol!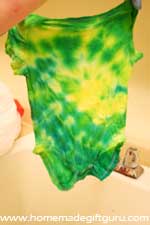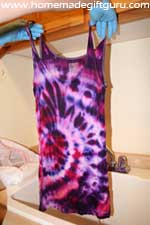 Now you'll have some great spiral tie dye t shirts, tank tops or other clothes or gear. Remember, it's fun to experiment. It's fun to tie dye with friends. It's fun to pick your favorite colors ahead of time, so you can tie dye in the perfect color combinations, whether they be for gifts or for you!
Learn here what tie dye supplies we use for all our tie dying projects.
We also have tie dye instructions for tie dye shirts and other stuff using an awesome circle technique. Learn why this circle tie dye technique is especially perfect for beginners and homemade gifts...
More fun tie dye projects to come: tie dye boxer shorts, tie dye bedding, pleated tie dye tee shirt, tie dye totes...
Didn't Find What You Were Looking For?
---
This site is built and maintained using Site Build It!
You could do it too!!! Click here to learn more.
---
Affiliate Disclosure: To help me provide the information and tutorials contained in this website, I may receive monetary compensation or other types of remuneration for my endorsement, recommendation, testimonial and/or links to any products or services from this website. Please note that I only endorse products that I believe would be of value to my readers. Also note that Homemade Gift Guru is a participant of Amazon's affiliate program. I may make a small commission on orders made through my Amazon links. This helps me maintain my site. Thank you for your support!