Halloween Printables...

Make your homemade Halloween treats even SWEETER with these Halloween printables!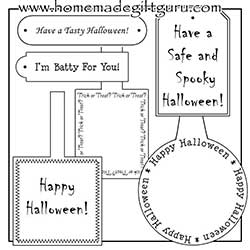 I've grown to love Halloween! It's a relatively low stress holiday with lots of opportunities to enjoy creative Halloween crafts, fun and spooky homemade Halloween gifts and plenty of tasty homemade Halloween treats...
If you like these things too, you'll probably find the following Halloween printables useful as you create, give and prepare for this fun fall holiday.

The following free printable Halloween gift tags are designed for use with your...
Store-bought and homemade Halloween gifts
Homemade Halloween treats
Halloween party grab bags

Homemade Halloween greeting cards
Halloween craft projects
Candy to give out to friends and neighbors

Tips for Creating High Quality Gift Tags from Free Printables...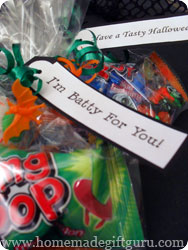 Print on Card Stock (heavy paper). For best results print on high quality heavy weight paper such as card stock.

Backing. These printable tags look extra good with a slightly larger and darker colored backing. Simply hold your tag in front of the backing paper and trim it slightly larger than the tag. Then glue them together for a fun sturdy tag.

Crafty. The typing can be left black or emphasized using gel pens or glitter. Use ribbon to attach the tags and any other embellishing you'd like in order to make your Halloween tags stand out.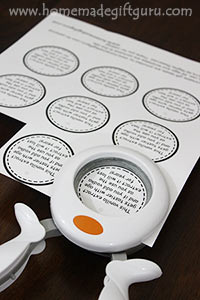 Pic of me using my favorite circle punch...
Use a Paper Punch or Scissors...

Cut these tags out in seconds... By using this 2 inch circle punch, you can pop these simple round Halloween printables out in seconds! I recommend the one linked to because you can see exactly what you're punching out. I find this to be a super important feature in my circle paper punches.
Of course, you can grab your scissors and cut them out manually as well. Whichever method you choose, the following tags will be a quick and easy way to enhance your Halloween gifts, homemade Halloween treats and Halloween craft projects!
Happy Spooky Crafting!

Please note that these are my exclusive gift tag creations. All tags copyright © www.homemadegiftguru.com and provided for personal and gift giving use only. All Rights Reserved.

Click on any of the previews below and a new window will open with the full size printable .pdf page.

More Halloween Printables...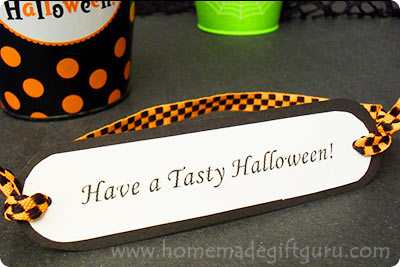 The following free printable gift tags are easy to print.
To print:

Right click on the image and choose [print picture] or [save picture]... print as many as you need.

To print several tags at once (or to resize tags), copy and paste tags into any word processor program such as Microsoft Word or Open Office (Open Office is a free program you can download if needed).

Related Pages...