Easy DIY Sock Bunny
DIY No-Sew Sock Bunnies Will Bring Hoppiness to Somebunny Special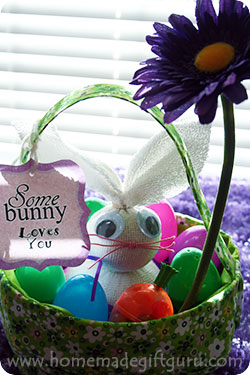 Every time I make a sock bunny, I fall in love! They're just adorable... and this no-sew bunny craft tutorial makes it easy enough for anyone to spread some bunny craft loves...
Below you'll find instructions for making your own easy no-sew sock rabbit.
I will also show you how to make floppy bunny feet and bunny arms that can be used to hold little Easter gifts like a flower (giant silk daisy shown right!), candy (shown below), or even a balloon.
You'll also find the coordinating "Somebunny Loves You" Easter printables below. Enjoy!
---
How to Make a Sock Bunny
---
This sock craft tutorial uses an adult size tube sock but you can use pretty much any size or type of sock for your sock bunny. You can even used various colors and/or socks with patterns.
Supplies...
1 Adult Size Sock
Rice
2 Rubber Bands (clear or white works best)
Hot Glue Gun or Fabric Glue
Measuring Cup
Wide Mouth Funnel
White Pom Pom (or yarn to make your own pom)
Scissors
Craft Foam (for arms and feet)
Decorative Craft Supplies: googly eyes, buttons, ribbon etc.
Optional: You may also like to use one of my free printable Easter gift tags...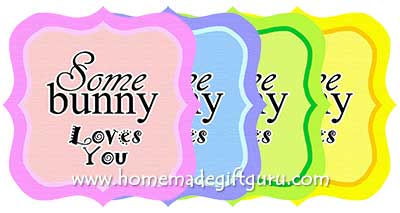 Step by Step...
Fill sock with around 2 cups of rice.
Wrap rubber band around the top of the sock so you have a ball.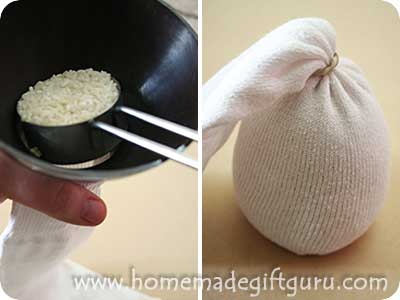 If needed, shorten sock length until you have a more manageable length for creating ears. See right ==>
Cut that length in half vertically to create two strips coming off the ball.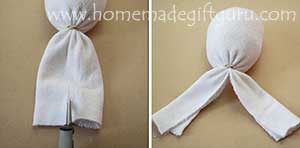 Take each strip and trim off the corners creating a leaf like shape for each ear.
Grip the ball where you think the neck should be and squeeze until you have a nice looking bunny head and bunny body. Take a rubber band and wrap it semi-snugly around the neck... not too tight unless you want your sock bunny to have a wobbly bobble head (too loose will allow rice to escape the head).

Note: You can cover up the rubber band when you decorate by using ribbon for a bow or fabric for a scarf.
Now it's time to make your sock bunny face using buttons, googly eyes, markers, beads, thread, wire etc.

Tip: Memory wire makes a cute nose with whiskers. I like to wrap one piece around three pieces several times as shown to the right.

...You can also do something similar with embroidery thread picked apart into strands. Use your imagination, making the face is the coolest part!
These next steps are optional... if you want bunny feet and arms that hold a treat...
Cut bunny paws and bunny arms from something like craft foam or felt. Make the arms longer than needed at first because you will trim the extra length later.
Glue bunny feet in place.
Next, glue the hands together as if they are grasping each other. ...see photos below
Put the treat or flowers in place and the arms over it to see how tight you need to glue the arms.
I hold everything together and hot glue each of the arms to the sides to ensure a tight fit.
Trim any extra sticking out from the back of the arms if needed. ...See images below for visual instructions on this...
Tip: A hot glue gun really works best for adhering stuff to your sock bunny.
You are done!
...Now go on and make somebunny's Easter super hoppy by giving this sock bunny in a basket and/or holding a treat, flowers or a Happy Easter balloon.
That's how to make a super easy sock bunny!
Ideas for giving your homemade sock bunny:
Snuggle your homemade bunny inside a small basket and surround it with a ring of candy-filled plastic Easter eggs.
Snuggle your homemade rabbit inside a large basket and surround it with traditional Easter gifts like chocolate bunnies, Spring activities, Peeps, Easter eggs, candy, Easter decor, hair bows and hair flowers etc.
Give it by itself with the "Somebunny Love You" Easter gift tag featured under supplies.
Put something in this sock bunny's arms... You can snuggle in just about any decorative candy tube and/or a festive little balloon or you can stick a giant silk daisy in it's cute little arms (or fresh flowers of course).
...Depending on how you glue on the arms, you can also design your sock rabbit to hold a small chocolate, a candy bar... even a bag of jelly beans.
---
Related Homemade Gift Ideas...
---
Sock Rabbit Baby Bunnies: A fun and Frugal Easter Craft Idea. Rather than using a full size adult sock, these cuties are made using mismatched baby socks. Bonus... They fit inside Easter eggs so you can use them for Easter egg hunts and darling Easter gift ideas.
Check out... Sock rabbit baby bunnies - a.k.a. my bunny-in-an-egg Easter gift idea...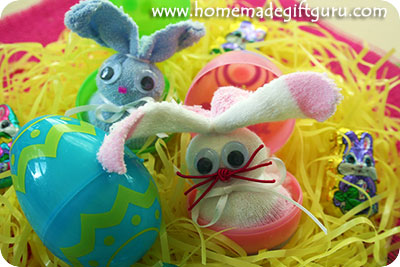 Or make somebunny's Easter extra creative and super hoppy with a DIY Sock Bunnies Easter Craft Kit!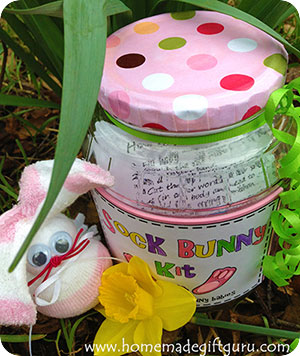 You may also like:
No-Sew Sock Snowman for Christmas
No-Sew Sock Spider for Halloween
Didn't Find What You Were Looking For?
---
This site is built and maintained using Site Build It!
You could do it too!!! Click here to learn more.
---
Affiliate Disclosure: To help me provide the information and tutorials contained in this website, I may receive monetary compensation or other types of remuneration for my endorsement, recommendation, testimonial and/or links to any products or services from this website. Please note that I only endorse products that I believe would be of value to my readers. Also note that Homemade Gift Guru is a participant of Amazon's affiliate program. I may make a small commission on orders made through my Amazon links. This helps me maintain my site. Thank you for your support!