Tie Dye Supplies
Best Tie Dye Supplies: Don't Waste Your Time With Faded Tie Dye
Hopefully you've taken a look at our tie dying instructions and various tie dye patterns, such as spirals and circles... it's time to talk supplies. Don't waste your money on poor quality or over priced dye supplies!
We want you to make beautiful tie dye gifts, full of the vibrant, colorfast, washable, high quality that you've imagined...
In all our tutorials and examples we've used the following products. We've found them to be the best...
...If you are just getting started, here's a starter kit with four excellent colors and soda ash included
(first tip... always use soda ash - see my tie dye instructions for a how-to!).
---
Tie Dye Supplies That Make a Difference....
---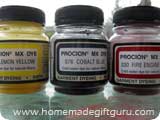 Start with High Quality Dyes. Jacquard makes fantastic high quality cold water dyes. That means they are vibrant, permanent, colorfast and totally washable (when you use them right).
The Jacquard Procion dye are the brightest we've used, lots of beautiful colors to choose from, great price and they are safe for use with delicate fabrics.
I had a terrible experience once making a dyed tote bag gift for my Aunt... I used RIT dye to dye tote bags for my Aunt's birthday once and the hot water dying process destroyed the bags. These cold water fiber reactive dyes are safe for natural fibers as delicate as paper or as sturdy as cotton. So... Check out all these beautiful colors now featured on Amazon!
Make Your Dye "Stick" with Soda Ash. One of the tie dye supplies you must always use with Procion dye is soda ash dye fixer. You'll want to soak your pre-washed fabrics in soda ash water right before dying. Soda ash affects the PH of your fabric so that it is optimal for applying dye. Always use soda ash with your tie dye projects!
Stop Your Dyed Fabrics from Bleeding by washing with Synthrapol Detergent. Synthrapol is an industrial strength neutral liquid detergent that suspends the dye particles so they don't bleed back onto your fabrics. This is how you keep all your colors where you want them (white stays white and even bright colors keep to themselves). Simply add a couple Tablespoons of this to the washing machine during your first wash (you can even wash all your freshly dyed fabrics together). Plus, if you ever find yourself with a new top that bleeds in the wash, synthrapol will fix that too. At around $5 it lasts for several large tie dye projects. Jacquard Synthrapol 6 oz.
Optional Tie Dye Supplies:
Urea. Urea can also be used to enhance color. It is not necessary but if you're like me, you may want to give it a try. I like to know that my colors will be the absolute deepest, most vibrant colors possible! Vibrant colors are a joy to unveil and it adds very little extra cost at 1 lb for $2.68. Jacquard Urea 1lb Pkg
Squeeze Bottles. If you ever do end up with a tie dye kit, always rinse and save those squeeze bottles and lid tips! They are super handy for mixing dye and for creating great tie dye patterns (and can be used for other craft projects as well). You can tie dye with cups (left over paper party cups work great) but the squirt bottles reduce mess and increase ease and control. They can also help you get into the folds of large pieces of bound fabric. Each one will last a life time if you keep them clean between projects. Any squeeze bottle like this will work great...
In addition to our tie dye instructions, tie dye supplies and tie dye tips, you might want to experiment with various tie dye patterns...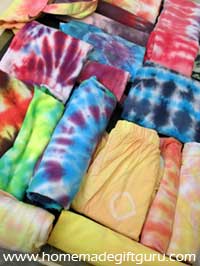 Tie Dye Patterns and Folding Techniques...
We have a few specific tie dye pattern techniques to share with you, beyond that the sky is the limit...
No two tie dye projects will ever be exactly the same!
Didn't Find What You Were Looking For?
---
This site is built and maintained using Site Build It!
You could do it too!!! Click here to learn more.
---
Affiliate Disclosure: To help me provide the information and tutorials contained in this website, I may receive monetary compensation or other types of remuneration for my endorsement, recommendation, testimonial and/or links to any products or services from this website. Please note that I only endorse products that I believe would be of value to my readers. Also note that Homemade Gift Guru is a participant of Amazon's affiliate program. I may make a small commission on orders made through my Amazon links. This helps me maintain my site. Thank you for your support!