Tie Dye Techniques
Using Marbles
How to Tie Dye Using Marbles and Various Marble Techniques...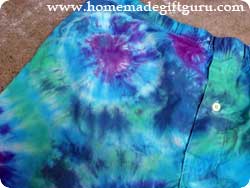 Marble tie dye techniques are a delicious way to tie dye. Just look at the crazy tie dye pattern to the right!
Yep, those are men's boxer shorts (but you can tie dye just about anything with marbles)... now that they're tie dyed they'd be cute boxers for a guy or cute shorts for a gal...
These boxer shorts came from Target, cost around $5 and have a button on the fly (no baggy butt either)! I had to search a little because I didn't want any of the boxer shorts with elastic showing since elastic won't dye.
I guess we were really in an underwear kind of mood for this tie dye project, because we tie dyed bloomers too, you can see those results below if you'd like. Who wouldn't want a pair of tie dyed underwear?
Got Marbles?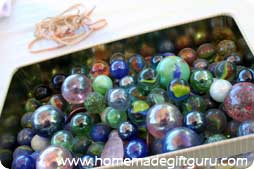 If so, perhaps you might make a trendy pair of tie dye shorts like these for your boyfriend... girlfriend... husband or wife.
Or you might use the marble tie dye technique to tie dye t-shirts, tie dye tank tops, tie dye socks, bandanas, onesies, a blanket, pillow case... whatever you can think of!
Whatever you choose to tie dye, this technique is super fun and relatively predictable (in a whimsical kind of way). We'd be tickled if you would add a pic of your tie dye project(s) to our virtual brag book and even tell us who you made it for... it's easy!
If you're new to tie dye or you want loads of tie dye tips, visit our tie dye instructions page as referenced throughout our tie dye tutorials.
---
Marble Tie Dye Techniques
---
Step 1. Garment Preparation
See tie dye instructions... don't forget the soda ash!
Step 2. Prepare Workspace
Step 3. Bind Fabric (Marble Binding Technique)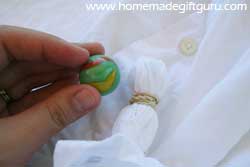 Wrap some marbles. Choose various places to wrap and bind a marble snugly in your fabric using rubber bands.
Leave it at that for a rather simple circle or for a more vibrant pattern (like shown above), wrap another rubber band, binding just fabric this time, a little ways below the marble.
Tip: I used the giant sized marbles here for a rather dramatic effect.
Continue to bind marbles in your fabric until you feel satisfied. The more marbles, the wilder your results.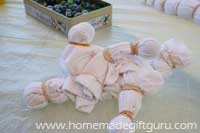 Everywhere you choose to bind a marble will result in a circle and the bulge under that will be what surrounds your circle.
Tip: In the case of boxer shorts, it's cute to wrap the band for a half circle effect (shown above left).
Here's a simple example of what you'd get without the second bunching below each bound marble... of course this is using only one color as well, a variety of colors will create a more intense effect.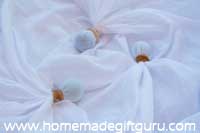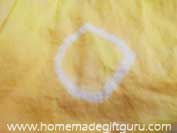 Step 4. Prepare Dye
See tie dye instructions... use high quality dye!
Step 5. Dye Fabric
Squeeze or pour dye as desired
. Add color however you choose. If you're unsure of your color palette or needs some tips, there are several tie dye tips on the
tie dye instructions
page. Be sure to get inside any folds if necessary (a squeeze bottle is helpful for this, shown left).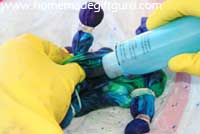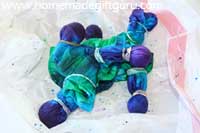 Tip: I use a kitchen trash bag to both contain my mess as I dye and then to wrap my project in afterward...
Step 6. Cover Fabric and Allow Dye to Set
Step 7. Rinse in Warm Water
Rinse fabric in warm water to remove excess dye. Remove rubber bands and marbles one by one, careful not to let the marbles go down the drain. Unravel as you rinse. Continue rinsing until water runs nearly clear.


Tips. You may notice that some fabrics as well as some colors take longer to rinse than others. When you're done rinsing each piece of fabric, put rinsed fabric on a clean plastic bag (or other plastic) and never let your various projects lay against each other at this stage, the dye will transfer at this point.
8. Wash and Dry Fabric
See tie dye instructions... don't forget to wash in Synthrapol!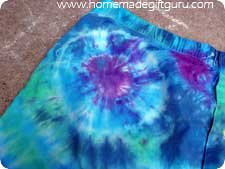 Done!
So that's it!... the marble tie dye technique... keep in mind,
Fabrics. You can use this tie dye technique or variations of it with any fabric that can be tie dyed.
Marbles. You can use various sized marbles for different effects.
Colors. You can use one single color, a couple or several during the tie dying process for very different results.
Techniques. And you can make simple little circles like those on the yellow bloomers (kind of cute if you ask me) or wild and crazy blasts of color as seen above (I was especially delighted when I unveiled this particular tie dye project).
You may also like to learn the spiral tie dye technique or this easy and beautiful circle technique that is especially great for homemade gifts. There's lots of great tie dye patterns and experimenting is great fun. Feel free to show us what you make in our virtual brag book.
Learn here what tie dye supplies we use for all our tie dying projects.
Didn't Find What You Were Looking For?
---
This site is built and maintained using Site Build It!
You could do it too!!! Click here to learn more.
---
Affiliate Disclosure: To help me provide the information and tutorials contained in this website, I may receive monetary compensation or other types of remuneration for my endorsement, recommendation, testimonial and/or links to any products or services from this website. Please note that I only endorse products that I believe would be of value to my readers. Also note that Homemade Gift Guru is a participant of Amazon's affiliate program. I may make a small commission on orders made through my Amazon links. This helps me maintain my site. Thank you for your support!