Gift Jar Ideas
What Can Go in a Jar Gift?
Gift Jar Ideas... From Delicious to Decorative!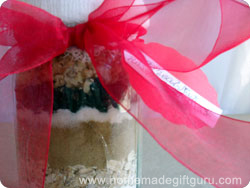 Gifts in jars are some of the easiest homemade gifts to make!
They may be warm and sweet, like the cookie mix to the right, or they could be personalized and decorative, like the honeymoon beach scene below...
Homemade jar gifts are also a great choice when you are making several on a budget or when you're down to the last minute.
While cookie mix in a jar gifts are probably the most popular of jar gifts, jar gift ideas can range from the super simple to the artistic.
---
Homemade Gift Jar Ideas...
---
Gift jar ideas can be just about anything you can think of. You can find yummy recipes for gifts in jars (and even a few bath and body jar gift recipes) on our recipes in a jar resource page. Common (and some less common) gift jar ideas include...
Layered Recipes in a Jar. Many mix recipes in a jar can be layered for added impact, preferably if there is significant variation in color and/or texture among the main ingredients. If you've never made a layered jar gift or have troubleshooting questions, here's how to make beautiful layered gifts in a jar, with more detailed instructions than you'll find on the recipes.

Mix Recipes in a Bag. Jar gifts are great but if you find yourself with a delicious mix that won't make very interesting layers (all one color for example)... or if your budget demands that you cut out the expense of canning jars... or if a glass jar is impractical for any reason (like because it's a gift for kids and kids don't need to receive heavy glass jars)... you might consider using Cellophane Treat Bags
. For example, the play dough mix to the right makes a very cute recipe in a bag rather than a jar gift.

Candy in a Jar. Candy is a fun item to include in a jar. You can buy candy in bulk and choose the best colors for the occasion at hand. To add visual appeal, include candy that is unique and/or colorful. If possible you can layer the candy, alternating textures, size and/or colors.
Canned Goods. Canned goods make extremely wholesome and often unexpected homemade gifts in a jar. The rich taste of homemade canned goods is more than welcomed by most. Most canned goods look lovely through the glass and some canning recipes in particular make food masterpieces. There are many possibilities:
Water Bath Canning - High acid foods such as most preserves, jam, jelly, salsa, pickles, fruits and fruit mixtures.
Pressure Cooking - Vegetables, soups and stews.
Note: Always use tried and true canning recipes and techniques such as those from the Ball website, which is called FreshPreserving.com, click on "recipes". Water bath canning recipes (high acid) are the easiest and least expensive way to start if you're new to canning.

Infusions and Homemade Drinks. Gourmet infusions and homemade drinks and liqueurs make inexpensive and creative homemade gifts in a jar. Give them individually for a sweet small gift or pair them up with other homemade goods for a nice gift assortment. You can find elegant bottles to display them in and close them with corks or embellish the lids they came with. Try bottling your own:
Homemade Cordials and Liqueurs such as Homemade Kahlua Liqueur
Homemade root beer
Homemade beer
Homemade wine
Infused cooking oils
Infused vinegars

Bath and Body. Bath and body mixtures are some of the easiest homemade gifts in a jar. They make especially good gifts for women, teens and sometimes even kids.
Homemade Bath Salts and other bath mixtures
Body mists such as Rose Water and other recipes made with rose or lavender water
Massage Oil - Scented with essential oils and/or infused with dry herbs or fragrant dry flowers
Salt Scrubs and Sugar Scrubs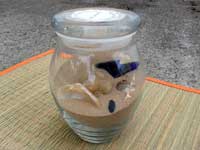 Decorative. Homemade gifts in a jar can be simply decorative as well. Sometimes it's fun to make a craft project out of your gift giving. Try the following:
Candles. Certain types of candles can be given in a jar. They make a fun homemade gift project and cost less than the store bought versions. There are countless ways to personalize and embellish candles during the candle making process. Candles specifically designed for jars include:
Your imagination is the limit when it comes to contents for fun and thrifty gift jar ideas. The jar itself is part of what makes a jar gift inexpensive to make as well as unique and exciting. Find out how to choose jars for jar gifts and where to find cheap jars
More about Homemade Gifts in a Jar:
Didn't Find What You Were Looking For?
---
This site is built and maintained using Site Build It!
You could do it too!!! Click here to learn more.
---
Affiliate Disclosure: To help me provide the information and tutorials contained in this website, I may receive monetary compensation or other types of remuneration for my endorsement, recommendation, testimonial and/or links to any products or services from this website. Please note that I only endorse products that I believe would be of value to my readers. Also note that Homemade Gift Guru is a participant of Amazon's affiliate program. I may make a small commission on orders made through my Amazon links. This helps me maintain my site. Thank you for your support!