Halloween Popcorn
Homemade Halloween Treats:
Halloween Caramel Popcorn Recipe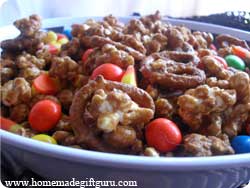 Halloween popcorn is a tasty contribution to any Halloween party. It makes a great homemade Halloween gift and is welcome in most any office or home, especially during the month of October...
For a few helpful tips on making perfect caramel popcorn go to our Original Caramel Popcorn Recipe.
---
Halloween Popcorn Recipe
---
The following caramel popcorn recipe is balanced with both sweet and salty plus it's full of Halloween color...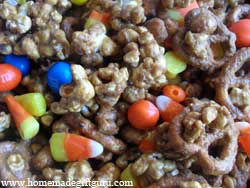 Ingredients:
8 cups of popped pop corn
(3-4 Tablespoons kernels)
2 cups mini pretzels
1 cup of dry roasted peanuts
1/2 cup butter cut into cubes
1/4 cup corn syrup
1 cup packed brown sugar
1/2 teaspoon salt
1/2 teaspoon baking soda
1 teaspoon vanilla extract
1 cup candy corn
1 cup peanut M&Ms or regular M&Ms or any candy coated milk chocolate pieces
You'll Also Need:
Nonstick cooking spray or oil for greasing
Large bowl (the bigger the better)
2 quart sauce pan
2 wooden spoons (or other large spoons)
Spatula
Large baking sheet
Measuring spoons and cups
Halloween Popcorn Recipe Instructions:
Important Safety Note: Caramel popcorn is great for kids to eat, not to make. The extremely high temperature of the caramel and the caramel popcorn makes it very dangerous for children. Adults should be very careful to avoid touching hot caramel and hot caramel covered popcorn when making, mixing and baking caramel popcorn.
---
Presentation Matters
---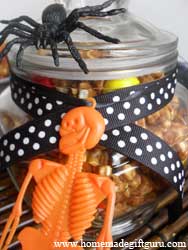 When it comes to decorating and packaging Halloween gifts, your local dollar store is a great place to get a bag of plastic bugs, some creepy halloween candy, maybe even a festive bowl and some halloween ribbon.
Use these items to decorate bags, jars, tins and bowls of crunchy caramel Halloween popcorn. It's a chance to let out the child within and play with some creepy, crawly, spooky toys and decorations...
You could put this Halloween popcorn in a unique Halloween treat bag (to eat right away, not to store).
You could also add it to a Halloween gift basket...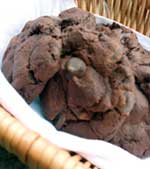 You may also like our chocolate chocolate cookie recipe in a jar!
The cookies (shown left) are a deep dark brown with pockets of gooey goodness throughout...
...they make perfect homemade Halloween treats. Make the mix as instructed and then decorate the jar in Halloween decor.
Didn't Find What You Were Looking For?
---
This site is built and maintained using Site Build It!
---