Valentine Countdown
A Super Fun and Crafty Homemade Valentine Gift Idea that Kids Love...
A DIY Valentine countdown calendar is a fun homemade gift idea and nicely timed for the one making it. For one thing, January is a nice time to get crafty since the weather is cool but the craziness of Christmas has come to an end.
Compared to the traditional 24 day Christmas Advent Calendar, the Valentine version is much shorter. You can start the countdown on February 1st, for example, or you can make it even shorter if that works better for you... there really are no rules for this one! This can allow for more crafting time and less overwhelm... And of course, it's a great excuse to get out the sparkles and the hearts!
Whether you traditionally like glittery crafting with hearts and cupids or not, you now have an excuse to give it a try just for Valentine's Day and in the name of your kiddos, or grand-kiddos, nieces, nephews, friend's kids... whoever you want to make a Valentine countdown for!
---
Valentine Countdown Ideas...
---
Valentine's Day is super fun for kids, so drawing out the fun and adding to the anticipation is a satisfying way to gift your favorite little Valentine.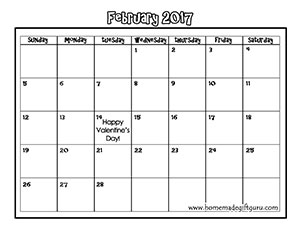 There are many ways to make a fun Valentine countdown. It could be as simple as crafting up your own cute little February calendar, hanging 13 heart shaped stickers next to it and letting your kids put a sticker on each day until they reach the 14th. In fact, here's a free printable February calendar that you can print on card stock if you would like. To give it as a gift, you can mat it and decorate it any way you choose and then give it to your little Valentine to use to count the days to Valentine's Day.
Or you may like to create something like I did below, that holds a special message or a fun gift for each day leading up to Valentine's Day.
If you are in fact, feeling like you want to get into this whole Valentine countdown thing and you would like to go in the cool gifty advent calendar direction, then let's get started!
Here's how to make a Valentine countdown calendar using my custom advent calendar templates...
---
A Valentine Countdown Calendar Using Gift Box Templates
---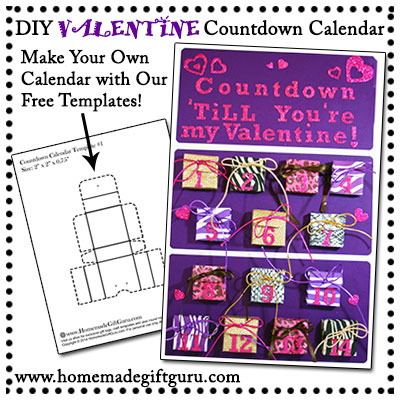 There are several advent calendar templates available for you to use! For this project I use template #1, which measures 2"x2"x0.75". There are a tun of ways you could set up your Valentine countdown calendar but here is how I did this one.
I recommend you read my tutorial, then start your own countdown calendar project with paper and ribbon that inspires you and go from there!
Gather Supplies and Tools...
You will need: Printer, paper, ribbon, stickers, pencil, glue stick, scissors, 1/8" and 1/4" hole punch, heavy duty glue or mounting squares, poster board.*
*Supplies described in more detail below...
Paper for the boxes
Tips... There is quite a bit of leeway in what kind of paper you use to make the boxes. Thinner paper is easier to fold while thicker paper makes sturdier boxes. Choose paper that is pleasing to look at. Choose paper with different colors and/or patterns that look great together. Choose a heaviness you are comfortable with using as you will be working with it quite a bit making all these boxes!
Coordinating Ribbon, Raffia or Craft Cord
(for ribbon 1/8 or 1/4 inch recommended)
Tips... Adding pretty ribbon is another fun part of this project but I recommend choosing really thin, easy to work with ribbon, craft cord or raffia. You will be pulling it through small holes a lot and tying many little bows with it. 1/8 to 1/4 inch ribbon, craft cord or raffia works great with these little boxes. 3/8 inch ribbon can be used but it is more difficult to work with.
Pencil (for tracing template)
Scissors
Glue sticks (for gluing the boxes together)
Hole puncher in 1/8 inch size... I often need the standard 1/4 inch size as well, depending on the ribbon that is used.
Mounting squares or heavy duty permanent glue. Mounting squares work great for attaching the boxes to the calendar. I've never had the boxes fall off with mounting squares but I had it happen once with regular glue. I get mounting squares at the dollar store.
Poster Board or whatever you choose to be your calendar base.
Glitter, Sticker or Foam numbers and letters are convenient but optional. You can also use markers, paints, stencils etc. instead.
Decorative Stuff. Any other decorative supplies you want to use.
How to Make This Valentine Countdown Calendar Step by Step Instructions...
Print Template. Print out the template on standard typing paper - here is the size I used or go to advent calendar templates page for more sizes, this is a fun project to customize to your liking!
Cut and Fold Template. Cut along the outside edge of the dotted lines. Then fold along the middle of each solid line. Easiest way to fold is first fold in on the blank side and then flatten and fold back the other way, in on the printed side.
Trace Template onto Paper. On the back of each paper, trace a solid line along the outside of the template. Then lift each flap up and make a dotted line along the solid fold lines as shown below.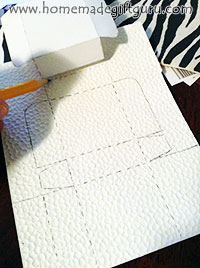 Cut and Fold Paper. Now the template has been traced onto the pretty paper you chose for each of your boxes...
Cut along the outside solid lines.
Fold each template along the dotted lines.
...Again, I just find it easiest to fold first the wrong way, which is in toward the pretty side, then fold back toward the side with the dotted line so your box starts to look like a box.

Punch Holes. This is the best time to punch the holes where indicated. Start with 1/8 inch punch. If the ribbon requires it, use 1/4 inch on the outer flap to accommodate both ends of the ribbon going through one hole.

Tip... Hole Protectors. If you want added sturdiness, hole protectors work great to avoid unintentional tearing during bow tying and untying.

Tip... Want to skip the ribbon? If you don't want to do the ribbon part, omit punching holes and instead use Velcro or simply use a replaceable glue dot to keep the flaps closed until your little Valentine opens each day's box.
Glue the boxes together. I find that a glue stick works great for this, because you can still make small adjustments to the placement of the flaps for a few seconds after you glue them together. The little flaps go in between the body and the main flap to add support.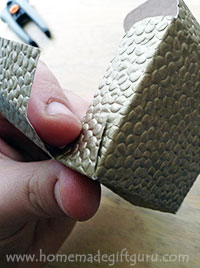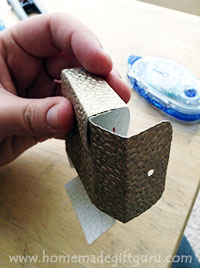 Ribbon. Cut a piece of ribbon or craft cord for each box to about 20 inches, maybe a little shorter. It is better to cut them too long and trim later than to get them too short. Run each end from inside the box and out evenly. Then put both ends through the single hole on the outside flap, as shown below.
Important... When Tying the Bow... later, after you place a goody inside the box, it will be time to tie a final bow on your closed box. You should tie it without first tying a not. That way all your Valentine has to do to open it, is pull each end of ribbon at the same time. The bow will easily unravel and they can open the flap, without facing the task of removing a knot.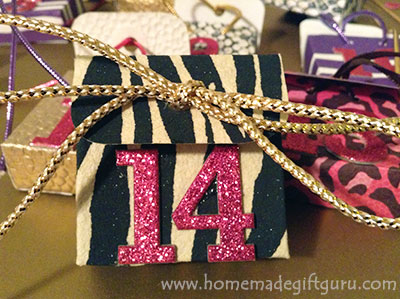 Design Details. Get out your poster board. For this project I used a piece of poster board from a package of half sized poster board I got from Michaels. You could also use card board for your base and then cover it with non-glossy gift wrap or scrapbook paper. Start placing everything where it will go so you can plan out any remaining details of your design. I glued purple scrap book paper to the white poster board and then used lots of fun glittery stickers to finish the design of my Valentine countdown calendar.
Adhere Boxes to Base. Once you know where everything will go, time to glue down the boxes. I like to put a mounting square on each corner to adhere each box. It's so easy, no fuss, no mess and strong enough to hold the box once they have a goody inside. You can of course use your favorite heavy duty glue if you would prefer. Whatever you use, make sure the boxes will hold though!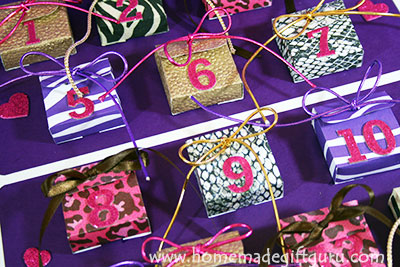 Finishing Touches. Now you get to put the finishing touches on your Valentine countdown calendar. Be sure to write or stick on numbers for the countdown. I love using foam or glitter stickers because they are so convenient. I love making these but by the time I am done with all my boxes, I am ready for convenient!!!

You'll see that I also punched a couple holes in the corners for ribbon so I could hang this one on the wall. Another option I've used is to give your Valentine countdown calendar a sturdy backing of thick card board so it can sit on top of my children's dresser right against the wall. Whatever you do will be awesome!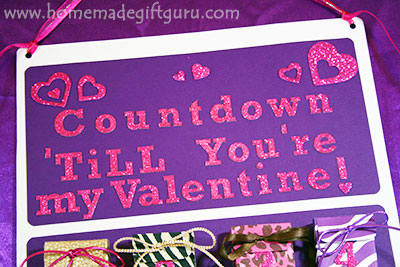 So now you have completed a Valentine countdown calendar!
---
Oh Yea.. and now the Goodies!
---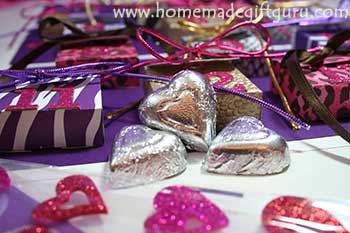 Picking out the goodies for your Valentine Countdown is awesome fun! Provided you bring a sample box to the store so you can make sure you don't pick anything out that won't fit... I learned that through plenty of experience.
Don't make the mistake of picking out scrumptious chocolates only to find out they are too big or wide or fat or tall to fit inside the boxes you crafted.
I always include Valentine messages of some sort! It's fun for me and fun for my kids. For example, a small paper heart for each day with messages like "Be Mine" and "I love your smile!".
...By the way, the last day should be something extra special!! After-all, anticipation has been developed and it's finally Valentine's Day!
...For an extra fun surprise on Valentine's Day Morning: On the last day write out a message saying something like "Will you be my Valentine? If your answer is YES, go look in the kitchen...". That's were you put a little Valentine's Day gift basket or a chocolate heart or something really cool for Valentine's Day. My oldest loved that last year. Always finish off with something extra special!!!
Besides a SWEET message each day, here are some small gift ideas for your Valentine countdown...
Stickers
Scrapbook Embellishments
Temporary Tattoos
Small Wrapped Chocolates
Tiny Bags of Candy
Tiny Toys ...(for example, the ones from the quarter machines will often work but you have to take them out of the plastic container because it is a little too big one way)
Important... Again, bring a sample box with you to the store to make sure each goody will fit!!! Take it from me, I know from experience.
---
Not Just for the Kids!
---
A romantic themed countdown calendar could be a great homemade gift idea leading up to a proposal, an anniversary or a very special Valentines Day. Enclose a variety of poems, love notes, a sexy photo, tickets to a movie or play, dinner date invite, treasure hunt clues, homemade treats, love coupons etc... or stick to a romantic theme such as:
Reasons I Love You!
February is a Time for Love
---
Birthdays and Other Holidays...
---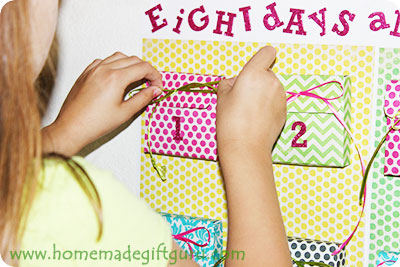 Recently I was inspired to make an "8 days until your Eight" birthday countdown calendar - a kid only turns 8 once! It turned out super fun and next time I think I'll end it with a little treasure hunt (instructions or clues in last pocket, leading to the main birthday gift).
You may also like this unique Christmas countdown calendar idea... kids love the fun of "treasure hunting" each day for their little surprise filled gift box ornament!
Didn't Find What You Were Looking For?
---
This site is built and maintained using Site Build It!
You could do it too!!! Click here to learn more.
---
Affiliate Disclosure: To help me provide the information and tutorials contained in this website, I may receive monetary compensation or other types of remuneration for my endorsement, recommendation, testimonial and/or links to any products or services from this website. Please note that I only endorse products that I believe would be of value to my readers. Also note that Homemade Gift Guru is a participant of Amazon's affiliate program. I may make a small commission on orders made through my Amazon links. This helps me maintain my site. Thank you for your support!