No-Sew Halloween Sock Spider
Make An Adorable Halloween Sock Spider!
Dress It Up Anyway You Like, No Sewing Skills Required...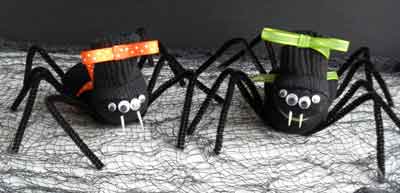 A few years back I made sock snowmen for Christmas presents. Actually, my husband helped me which was amazing since he really doesn't enjoy crafts. Turns out, we both had a blast and we agreed there was something really special about these little sock guys (and gals).
Then, we got so many heartfelt reviews of the sock snowmen, I had the idea for a Halloween Sock Spider... thinking it would be a cute little homemade Halloween gift for a child, a friend, co-worker or a teacher.
The price is right (less than $1 each) and dressing them up is super fun.
---
How to Make this Creepy Crawly Cutie
---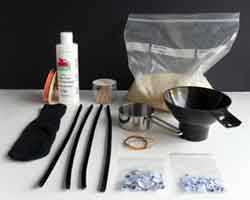 Materials:
Tube Sock - Black cotton preferably size 6 - 18 months
Chenille Stems - 4 black (12 inch) - or pipe cleaners
Googly Eyes - 2 small and 2 medium sized
Toothpicks - 2 wooden
White paint
Rubber bands - 3 skinny (small-medium sized bands work best)
Ribbon or fabric - cut in a thin strip
Rice - about 1 cup
Tools:
Hot glue gun - loaded
Measuring cup
Canning funnel or use a piece of paper, rolled into a funnel
Paint brush or foam brush
Instructions:
Fill Sock with Rice. Work the rim of the sock around the funnel. Use a measuring cup to fill sock with about one cup rice. Separate the sock into sections with rubber bands, leaving the ridged part of the sock free like below. Make sure your
first section is the largest, since this will be the body.
Form Hat. Form a hat by pulling the ribbed part of the sock down over the top section. Leave enough room for the spider eyes and teeth.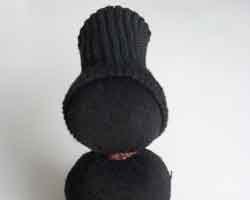 Glue Sections. Using a hot glue gun, glue together the sections of the body. Glue the head section at an angle as seen below. If the rubber band shows around the neck, that's ok since it can be covered up later with ribbon. Put a couple dabs of glue under the hat to secure it as well.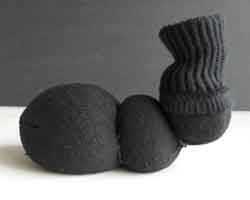 Add Legs and Eyes. First, fold each chenille stem in half twice. Each stem will make two spider legs as seen in figure "a" below. Next, use a small dab of hot glue to adhere a leg set to each side of the two body sections as seen in figure "b" below. Adhere googly eyes as desired. Your Halloween sock spider should resemble the one in figure "c."
Tips: Use glue sparingly because it does show on black fabric. Once the legs are glued in place, I use the gun's nozzle to rub a thin line up the stem about 1/4 inch and I then adhere each leg more securely.

Add Ribbon. Using the ribbon of your choice, make your Halloween sock spider fashionable with bow and scarf or other spooky accessories. Alternatively, a thin strip of fabric can be used for a cute scarf (try cutting the strip from a flannel shirt you don't want anymore - it works great).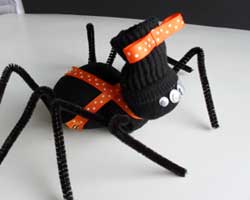 Make tooth pick teeth. Take each toothpick and stick them into your spider's face to make teeth. Use a twisting motion to penetrate easily. Once positioned, pull them out partially and paint the ends white. Once dry, push them back in to look like spider teeth. If a point comes out the back, snip it off so no one gets poked accidentally.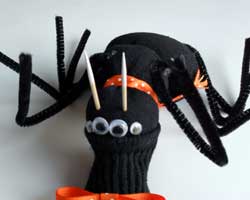 That's it, your homemade Halloween spider gift is ready to go...Have a safe and happy Halloween!
Now we have one very important request for you...
...Because no-sew sock spiders turn out too cute not to share...
So, if you make one of these sock spiders, it would mean so very much to us and to all our readers, if you would snap a pic of your creepy crawlies and upload it to our easy photo gallery with the form below...
Add Your Photo and Story in 3 Easy Steps...
Step 1: Type in a name and/or description of what you made, who it was for and/or what was the occasion...

Step 2: Upload photo from your computer (just remember what folder your photo is in and the computer does the rest)...

Step 3: Click Submit!


Start Here...
Didn't Find What You Were Looking For?
---
This site is built and maintained using Site Build It!
You could do it too!!! Click here to learn more.
---
Affiliate Disclosure: To help me provide the information and tutorials contained in this website, I may receive monetary compensation or other types of remuneration for my endorsement, recommendation, testimonial and/or links to any products or services from this website. Please note that I only endorse products that I believe would be of value to my readers. Also note that Homemade Gift Guru is a participant of Amazon's affiliate program. I may make a small commission on orders made through my Amazon links. This helps me maintain my site. Thank you for your support!