DIY Valentine's Day
Candy Bouquet
Valentine's Day Candy Arrangements... are Yummy Fun!
A Valentine's Day candy bouquet is a fun way to share sweets with your SWEET heart!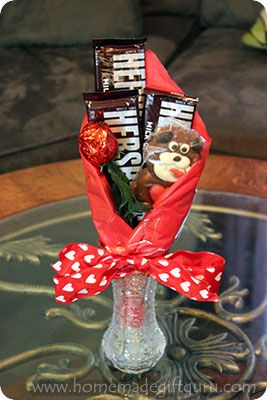 Whether your Valentine is family, friend or significant other, this candy gift idea can be made perfect for your someone special.
Use their favorite chocolate bars or any other fun candy that your sweetheart will enjoy.
Kids will especially enjoy candy bouquets with chocolate teddy bears, small stuffed animals and Valentine's Day themed candy.
If you want to make a pink themed candy bouquet, I suggest a combination of pink bubble tape and pink bubble gum packages, pink swirl lollipops and any seasonal pink wrapper candy you can find. If you can't find enough pink for your little sweethearts, try wrapping their favorite candy bars in strips of pink scrapbook paper.
A chocolate candy bouquet in a glass vase is (in my opinion) the most elegant of candy bouquets.
If your making them for friends or family, you may instead, like to start with a smaller container such as...
DIY Candy bouquets in re-purposed tin cans
Here's how I made the simple Valentine's Day Bouquet featured on this page...
---
Candy Bouquet Instructions
---
The slender neck of this vase makes it difficult to use floral foam so I simply used the tissue paper for support. If you choose to make a larger candy bouquet, I suggest using some sort of floral foam like the chocolate candy bouquet here.
To make this Valentine's Day Gift Candy Bouquet, I simply started with...
A small vase
5 pieces of chocolate
5 wooden skewers
2 pieces of square red tissue paper
Clear cellophane cut to same size as tissue paper
Ribbon
Glass beads (optional but I like the added sturdiness)
How to Make Candy Bouquets Step-by-Step...
Step 1. Fold Tissue and Cellophane.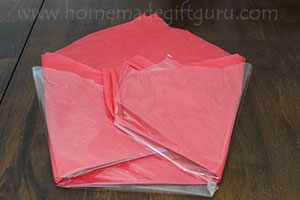 Lay your two square pieces of tissue paper on top of your clear cellophane (which should be cut to the same size as tissue paper).
Fold one corner up and each of the side corners in (as shown to the right. You can fine tune how far you fold the corners after you get your candy ready.
Step 2. Attach Candy to Sticks.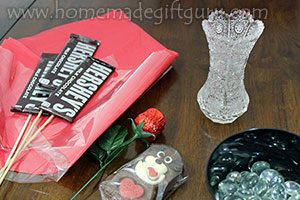 Hold each candy bar up to the vase and decide how much (if any) of the stick needs to be cut off to leave the candy at a good height.
Make any necessary cuts from the blunt end since you may need the pointy end to puncture tissue paper.
Using clear packing tape, tape a stick to the back of each candy bar as shown below.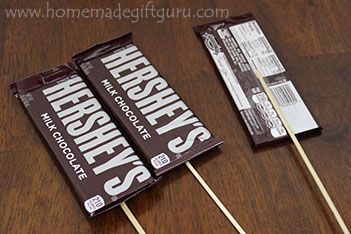 Step 3. Roll and Insert the Tissue Paper and Cellophane.
Roll up the tissue paper and cellophane as shown. Snuggle it inside your vase as far as you can get it. Make adjustments as needed. The tissue should be scrunched up a bit inside the vase, which will provide support to the candy on sticks when you insert them.
Step 4. Insert Candy.
Insert the candy on sticks, puncturing the tissue in the vase as needed.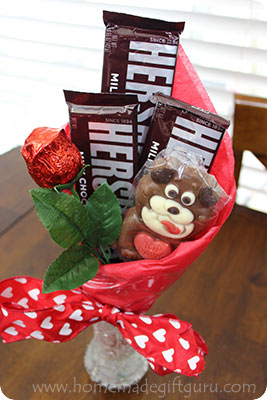 Step 5. Ribbon and Tags.
Wrap ribbon and make a bow as desired. You can add a gift tag for added sweetness!
That's it!
Of course, you can do this for any occasion you want! For example, to make a happy little Birthday Candy Bouquet you may like to choose brightly colored candy that is bursting with fruity flavor!
You may also like the following candy bouquet instructions:
If you need to make gift tags, check out these free printable gift tags and templates for lots of options!
Didn't Find What You Were Looking For?
---
This site is built and maintained using Site Build It!
You could do it too!!! Click here to learn more.
---
Affiliate Disclosure: To help me provide the information and tutorials contained in this website, I may receive monetary compensation or other types of remuneration for my endorsement, recommendation, testimonial and/or links to any products or services from this website. Please note that I only endorse products that I believe would be of value to my readers. Also note that Homemade Gift Guru is a participant of Amazon's affiliate program. I may make a small commission on orders made through my Amazon links. This helps me maintain my site. Thank you for your support!